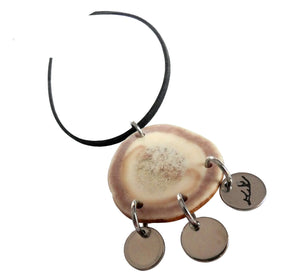 scandinavia4you.fi
REINDEER ANTLER NECKLACE WITH METAL PLATES AND SUEDE CORD
Regular price
€42,00
€0,00
Tax included.
Shipping
calculated at checkout.
Nordic natural reindeer antler necklace with small round metal plates and suede cord is designed and handcrafted by Lapland jewelry artisan Designer Saga Partanen. Reindeer antler is a beautiful material formed by nature. Reindeer shed and regrow their antlers every year, so they are not harmed during the production of this natural necklace. Unique and individual necklace is environmentally and allergy friendly.

The name of the necklace, Báitta is Northern Sami language, one of the indigenous languages of Europe, for 'shine'.
Materials: reindeer antler, metal plates, suede cord


Ethical handmade product

Size: height of antler part 3.0–4.0 cm, 1.18–1.57 inch, diameter of round metal plates 1.0 cm, 0.39 inch, adjustable cord max. 65 cm, 25.59 inch.

Product weight

: 25 g
Made in Lapland Finland, Scandinavia. Nordic natural reindeer antler necklace is handcrafted, which makes each piece unique.
Nordic reindeer antler necklace, silver nature necklace Midnight Sun, magical silver nature necklace Moon, silver necklace lord of the forest Tapio
---
More from this collection